Why online paid advert?
As gathered by Hootsuite, as of September 2018, more than 2.2 billion people are using Facebook, and for different purposes. Only a few have adopted the paid advert opportunity. That figure is huge and this implies that Facebook is a cloud space for real marketing for great results from online paid advertising.
That huge global audience means that Facebook is a key marketing platform for just about every business. But the ever-changing Facebook algorithm can make it a challenge to connect organically with fans – Hootsuite
In this post, you will be shown some of the few most important reasons why online paid advertising is best for your business. This is coming from a recent experience with some Facebook comments. I have seen folks place adverts on their timelines and seem satisfactorily relaxed.
A lot of people are still doubting the need for paid advertising for their online business. That's why this article is coming up now. This article is intended to show you the benefits of using paid advertising if you are haven't started yet.
Here we go…
You are the IN CONTROL
One of the reasons why you should use online paid adverts is the control advantage you have. You are simply the BOSS!
With paid advert, you can set your own budget, you can place your ads to target who you decide to target, you determine your searchers, you decide what strategy to use, you make your research, and lots more.
With Facebook ads, Google Ads, Instagram Ads, Linkedin Ads, etc, you are the boss of your traffic – you decide where to come from and who to trigger the traffic, the same who would come and buy your stuff.
You can also control your traffic "working time" – if you don't want traffic on weekends, you can stop it. You have the power to determine whatever result you so desire for.
Social Media Advertisement is really fast
Speaking about speed, this is no more news, actually! You can start a campaign in less than 1 hour, which means that in the next 24 hours, your website will start getting as much traffic as you want. This is quite better than advertising with media houses.
However, the media houses are still very actively converting. Don't miss that out of your integration plans, as they can work together to bring about massive traffic for your business, howbeit not as fast as social media advertising.
The question of why online paid advert is best does not totally exonerate the fact that this medium can work along with the traditional mode of advertising. 
You don't have to wait weeks before you see your page in the first place of the search engine to get some traffic. Just plug-and-play your campaign and soon you will get more business. Play your cards right and you can fill your business with the right customers in less than a week. This will also help you to build your brand awareness and authority very fast.
Laser Targeted Ads
Another reason why online paid advert is best is clear here. If you want proper clients in no time, you can start with the online paid advertising. It can give you the exact type of people you want. Your first job is to find out the characteristics of your targeted audience, then it will be easy to reach them.
Suffice to say, with time, the cost of advertising becomes reduced. This is particularly related to Facebook Ads which offer other advantages that helps reduce drastically what's spent on promoting using a particular setting.
Read Also: How to Search a profitable niche for online business
You Can Control Your Adverts
You can cut your expenses sometimes in half or even more while generating sales still. This you can do by canceling a running advertisement, perhaps because it is not yielding in sales to your expectations. When the ads are not leading to good business for you, you are at liberty to stop the ads, continue or discontinue the business.
Read Also:  How to Search a profitable niche for online business
More data
Using advertising platforms can help you to find out more information about your business – what people like, what people want more, what you can upsell and so on.
This information is precious and you should get it by all means possible. I don't say that you can't have it with free traffic, but it will take much more time before you can get enough data to make the conclusions.
READ ALSO: WHY SELLING ONLINE IS RIGHT FOR YOU
I am sure that now you can see the big opportunity which paid advert is giving to all of us. You just have to do some clicks and you will have traffic which you want. Don't hesitate more, you are losing money every second.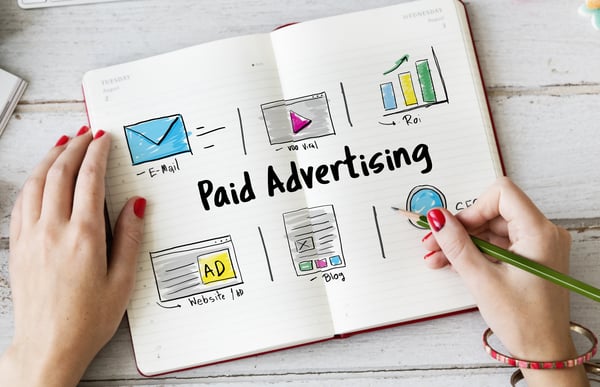 Conclusion
While organic advertisement is a cheap means of promoting your products, it is not quite recommended in the long run. Its reason is cleared in the above 5 top advantages.
Good quality traffic cannot be acquired for free. They come with a price and guarantee your conversion. The paid advertisement gives you full control over anything else in that while you are sleeping, your ads are busy working for you.
Feel free to drop your comment about this post. See below for a comment box to your advantage.
There is love in sharing, feel free to show some care by sharing this post to your friends and networks.